Great Advice, Great Products, Great Prices
Here at Design on King, we believe that window coverings are not only a means for privacy, but rather the finishing touch that helps turn your house into a home. Nothing finishes a space quite like some beautiful Shades, Drapery, or Romans. As a design team first, we focus on providing our clients with beautiful products that match your lifestyle, your practical needs, while always concentrating on matching your individual style. Your experience at Design on King, selecting products with the guiding influence of an interior designer, will forever change the way that you think about shopping for window coverings.
With highly competitive pricing, we also make sure you're always getting the best deal available.
We invite you to come visit our showroom, meet with a consultant and see the products first hand!
Blinds
Design on King is proud to carry two of the Market's best Window Covering manufacturers in North America! Their focus on quality, customer service, and longevity rivals no other. Each manufacturer offers a wide variety of products, fabrics, and operating systems; which ensures the perfect match every time.
Price: $$$-$$$$$
Popular Products: Silhouette, Pirouette, Solera
The market leader in window coverings for over 30 years! The number one choice for interior designers, homeowners, and architects. With a lifetime warranty, this is an investment that will last!
Price: $-$$$
Popular Products: Dual Shades, Sunsets, Rollers, Shutters
A Canadian Made Manufacturer with over 35 years of experience. They are constantly innovating, allowing them to offer top of the line blinds at economical pricing.
Ask our sales team how you can bring your home into the future with motorization. Systems are available on nearly every style of shade. Pairs perfectly with smart home systems like Nest, Control 4, and more!
Designer Curated Custom Drapery
We are proud to introduce our Design on King exclusive Drapery program!
We created a program which allows you to bring beautiful custom drapery into your home without spending a custom drapery price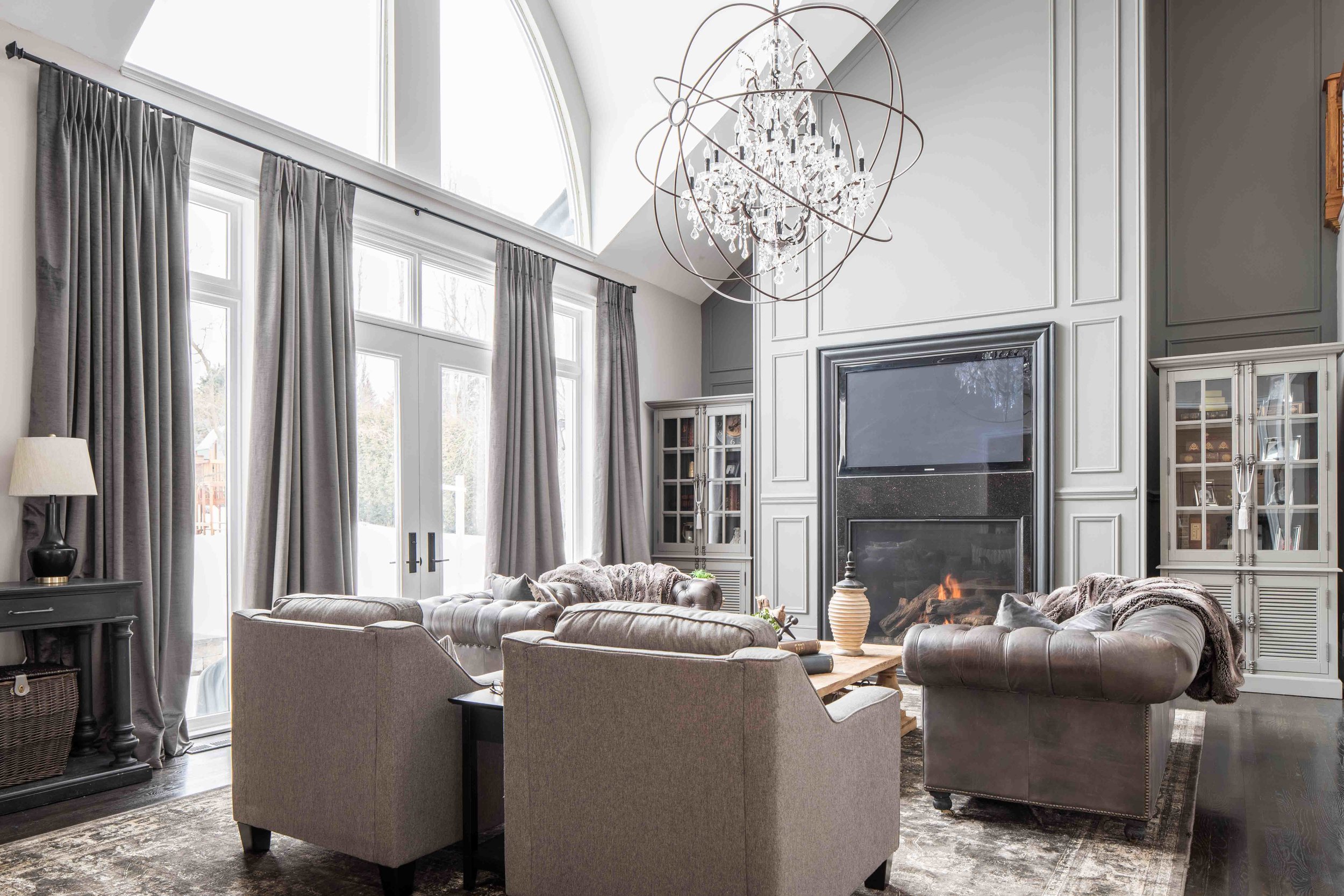 - Select your length (to the nearest 1/8")
- Choose your fabric (50+ Designer Curated Choices)
- Select your Header
- Select your Hardware
- Includes Cotton Liner
- Made Locally
- Full Custom Quality
- Ready in 3 Weeks
- Installation and Measuring service available
Call or come in today for a quick quote!
Home Décor
Wallpaper
Design on King carries a full library of wall coverings from a plethora of manufacturers. Our designers have done the work for you, by constantly updating our library only leaving behind the classics, the trendy, and the popular. Whether it's a feature wall, a powder room, or an entire home; we'll have the experience and the suppliers to be able to match you with the perfect paper! With over 100 books to choose from, we're confident that the perfect paper for your project is waiting for you!
Drop by, have a coffee and take some time to peruse our collections